Picture this – 3 tools to add visual flair to your posts
You may have killer content, but it won't do you any good unless you have amazing visuals to go with it. Why? Hootsuite nails it: strong visual content on social media gives people a reason to follow, like, comment and eventually do business with you. It can make or break your strategy.
In case you need more convincing, Hootsuite also shares that:
LinkedIn posts with images have a 98% higher comment rate on average.
Tweets that include visual content are three times more likely to get engagement.
Facebook posts with photos get more likes and comments.
Visuals tend to leave more of an imprint, too. We're 65% more likely to remember information if it includes an image.
Convinced? Awesome! But wait – what if you don't have a marketing budget large enough to hire a graphic designer to make all the social media and blog images you need? What do you do?
Luckily, image creation software options have exploded over the past few years, and at Communicatto, we've got you covered. In this blog post, we've compiled our favourite image creation software so you can easily find the one that works for you. Let's explore Canva, Pixelied and Snappa.
Why we love it: With Canva, anyone can be a (pseudo) designer thanks to its ease of use. LinkedIn states that it's a drag and drop platform where you can easily create all the social media and blog images and videos you need within minutes and size your creations to match whatever platform they will be used on. What's also great about Canva is that it's affordable. Not only does it offer a limited free version, but when you upgrade, it's only $17.99 per month. We especially love all the professionally designed templates that Canva offers so that you don't have to worry about what you put on your blank canvas. Better yet – all the templates are customizable. We also like that you can design a post and directly schedule it to your social media channels. Finally, if you have a team, Canva is a great tool because it's a breeze to add team members, assign roles, set brand standards, and share assets.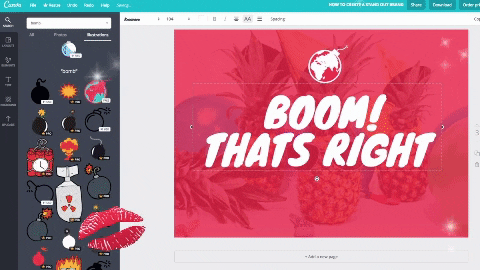 Why we love it: Pixelied was made for non-designers to create stunning visuals within minutes, and according to Fixthephoto, it's a simplified version of Photoshop or Canva. What we really like about this software is that it has an intuitive user interface with great editing and collaboration options. Want to remove the background of your image? No problem – just use the background remover. Want to invite colleagues and share projects? Pixelied makes it easy to share designs across multiple workspaces. One great feature of this software is that it has mock-ups that imitate TV, laptop and tablet screens that you can submit to a client for review. Pixelied is also known for its vast selection of stock photos (over 3 million!) that are royalty-free. One thing to note is that Pixelied doesn't let you create videos or animations, so if you're looking for this feature, Canva may be your better option. However, if you need illustrations, Pixelied offers 700+ hand drawn options. Depending on your needs, we recommend starting with the free plan to get used to the platform before upgrading.
Why we love it: If you just need a basic image creation tool, Snappa is your first choice. While platforms like Canva and Pixelied offer more advanced design features, Snappa is perfect if you're just starting out and need a simple design from an easy-to-use interface. Snappa has approximately 5,000 templates (Canva has 400K+) and over 4 million hi-res pictures. According to Techjury, Snappa is ideal for beginners because it offers a video tutorial as soon as you sign-up and there are a variety of video and text tutorials if you need more support. We love that you can use Snappa for free as long as you want, but if you want more advanced features it's only $10 per month for one person. Sign up for Pro to get unlimited downloads per month, custom font uploads and a background image remover. According to EverGreen Profits, all Snappa templates are free, while with Canva, the better looking ones cost more money. In addition, you can easily share images to popular social media platforms without a link back to Snappa. This is better than platforms like Canva because if you create an image and then share it, your image is shared with a link back to Canva.
We couldn't resist adding one more option for you. If you haven't checked out Wordswag, we recommend you do. Why we love it: it's an easy text on pictures editing app. With just a tap, you can customize text layouts that would normally take minutes or hours. Plus, the app provides hundreds of quotes, thoughts and jokes, so you're never at a loss for words. The only drawback is that it's for iOS only, but if you're an iPhone user, it's a solid choice for some inspiring text visuals.
Now that you have an overview of our three recommended image creation software tools, you can start designing. Not sure what tool is right for you?
Connect with us to chat
.